Professional Learning
Project ELITE2 collaboratively developed and refined a professional learning community (PLC) model with the practicing professionals at our partner campuses. Final specifications to the model were made at the end of the model development phase of the project, and the model was fully implemented at demonstration sites. The figure below represents a yearly PLC cycle. Click on each of the components of the cycle to learn more.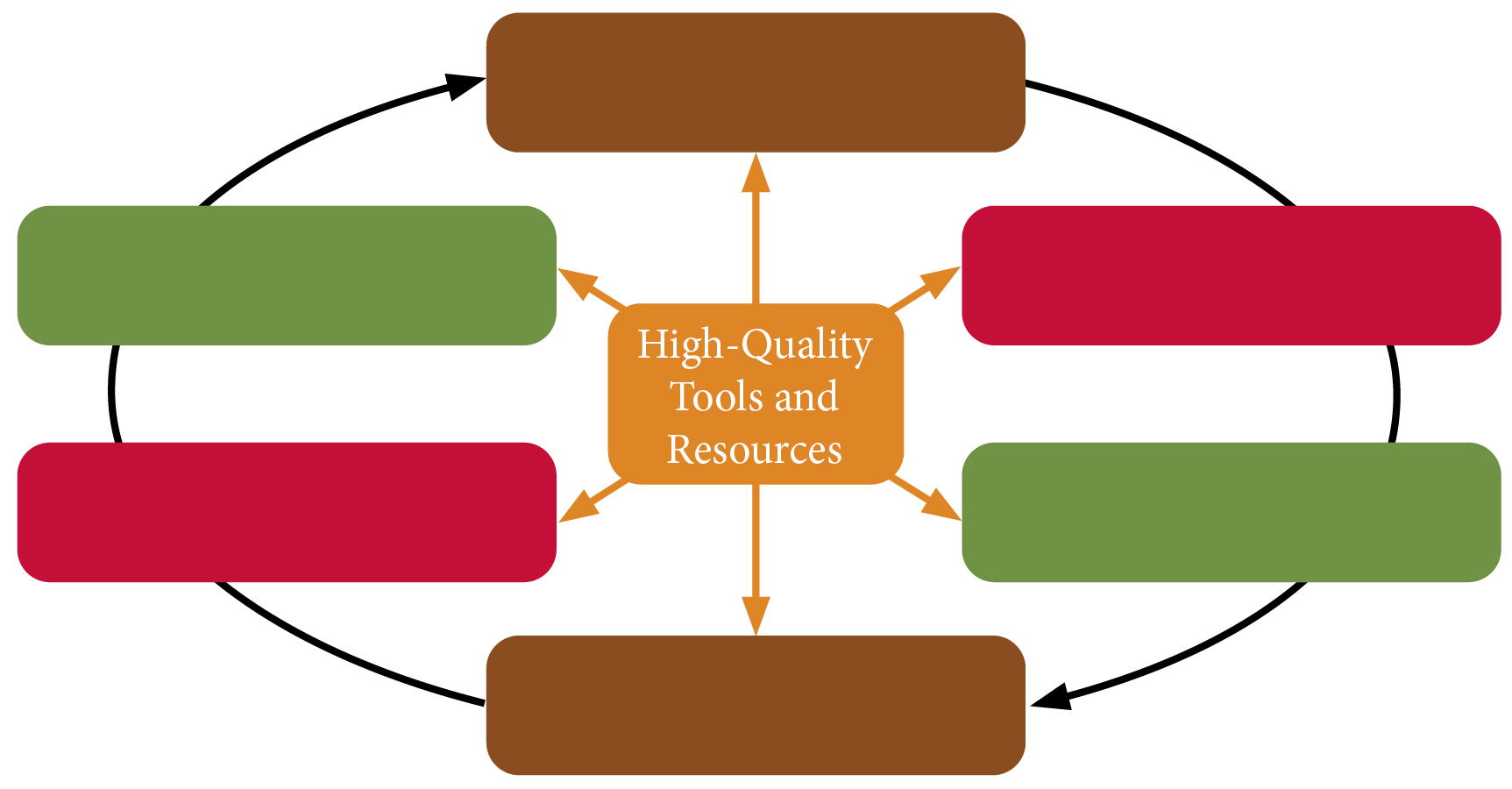 Formal Learning: Evidence-Based Practices
Peer Collaboration
for Practice Refinement
Coaching: Observation and Feedback
Self-Assessment and Self-Reflection
Teacher-Driven Action Planning
Coaching: Observation and Feedback
Formal Learning, Evidence-Based Instructional Practices: Teachers receive formal training that builds their knowledge base of evidence-based instructional practices for advancing language and literacy development for ELs, specifically their understanding of and ability to implement high-quality, structured text-based discussions.
Peer collaboration for practice refinement: Educators participate in collaborative PLC meetings to target obstacles or challenges to teachers' initial implementation, foster teacher-leadership, and collaboratively plan lessons.
Instructional Coaching, Observation and Feedback: Project staff members observe teachers' instruction and provide target­ed feedback to improve fidelity to the intervention and optimize the impact of teachers' practice on student learning.
Self-assessment and Self-reflection of Teaching Teachers use self-captured videos to reflect on their own prac­tice, based on a guided-reflection protocol. Teachers plan next steps to refine and enhance their instructional delivery.
Teacher-driven Action Planning Based on the self-assessment and self-reflection processes, teachers meet in the PLC to connect their new learning to instruction and plan next steps to refine their instructional delivery. Teachers share video examples of sucessful lessons and receive feedback from their colleagues.